| | |
| --- | --- |
| Welcome to Leewood, a townhome community conveniently located inside the beltway in Springfield, Virginia. A short 12 miles from Washington, D.C., the 195 homes that comprise our community were built by award-winning custom builder Clarence Gosnell in the 1970s. Gosnell incorporated into Leewood construction features rarely seen in townhomes built today. In fact, they were even unusual then. | |
| Hardwood floors, all-brick and block construction, brick parapet walls, finished basements, copper piping, tiled bathrooms, steel support girders, paneled interior doors, flagstone stoops, and other standard Leewood features are hallmarks of a well-built home. Residents of our community have enjoyed the results of this quality construction in the ease of maintenance and classic, enduring beauty of their homes. | |
---
| | |
| --- | --- |
| Leewood is enhanced by the natural beauty of large stands of oak trees that meander throughout, providing pockets of greenery and privacy. These common area parks, the legacy of the mature woods that once occupied Leewood's 18 acres, have been augmented by decades of additional plantings of shrubs and trees through the community's ongoing landscape enhancement programs. | |
| The lovely "pocket parks" encourage residents to get outside and visit with neighbors while walking their dogs or watching their children's games. Others may simply choose to enjoy these spaces for coveted moments of peace and serenity in a suburban environment. | |
---
| | |
| --- | --- |
| Membership in the homeowners' association is automatic with the purchase of a home. We are self-managed; an elected board organizes and oversees the operations, with specific functions being handled by members of the board and other community members. Apart from legal, auditing, and various grounds maintenance services; all who play roles in the association are volunteers. We count on our residents and owners to contribute their time and effort so that the association can be effective for our entire community. | |
| By being run "by Leewood, for Leewood," we believe that not only do we have better management, but one that is more closely attuned to our owners and residents. The result: reasonable assessments, a robust reserve fund, well-maintained homes in compliance with ARC standards, efficient grounds services and trash collection, and healthy, appreciating property values. | |
A great place to call home!
---
Each household in Leewood is assigned one reserved parking space, out of the 401 available spaces. The remaining 206 parking spaces are open to common community usage based on availability; however, residents are urged to limit the number of cars per household and to be considerate of their neighbors. Although our available parking works out to 2.1 parking spaces per home, excess vehicles should be kept to a minimum.

Leewood maintains an informative and helpful web site for its residents. Visit the site at http://www.leewood.us for access to the Leewood Manual that contains our governing documents; information on trash pickup, snow removal, parking restrictions, and assessments; our architectural standards and forms; floor-plans, home repair articles -- the list is virtually endless!
There is a message board for conversing with neighbors, an email list, and the monthly newsletter (that is also delivered to each household) - all the work of Leewood volunteers giving back to their community.
---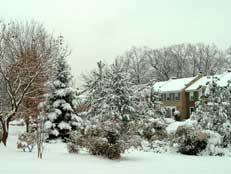 Convenience is one of Leewood's selling features. We are a convenient commute to Washington, D.C. and National Airport is within 11 miles. There are Metro stops nearby, and a grocery store, bank, and health club a short walk away. No further than 2 miles from Leewood there are seven parks, as well as the Virginia Railway Express, U.S. Post Office, schools, major home improvement centers, UPS, FedEx, and the ubiquitous Starbucks!
For more information on Leewood contact our homeowners' association.
Come to Leewood: A great place to call home!
Leewood Homeowners Association
4401 Ford Avenue, Ste 1150 Alexandria, VA 22302-1419
e-mail: leewood@leewood.us
Website: http://www.leewood.us
---