Leewood Truly

IS

a Great Place to Call Home
We moved to Leewood in August of 1995, and moved away
only recently in August of 2003. We loved our home and the quality of its construction. We enjoyed the beautiful pocket parks which meandered throughout our community. We appreciated the natural beauty of the mature trees and more recently planted shrubs and flowers. However, we have come to realize over the last 8 years, and especially in the most recent months, that the characteristic of our Leewood home that we valued the most and will never be able to replace was the friendship and kindness of our neighbors and the quality of community they embodied.
This is an open letter of appreciation, thanks, and tribute to our wonderful friends and neighbors on Leestone Court who welcomed us to their community and made us feel a part of an extended family. They were always there to lend a rake or a couple of eggs. They held our keys for those absent-minded moments when we locked ourselves out of the house, and they entrusted us with their keys as well. We gathered for holiday parties and made joint Saturday trips to the garden center for weekend landscaping projects. We comforted each other in the loss of loved ones, celebrated the birth of new babies, offered support after surgeries, and toasted job promotions.
We huddled on the sidewalk with glasses of wine when the power blacked out our entire neighborhood. We commiserated over home remodeling projects and sampled each other's new recipes. Dogs and cats have been fed, watched and appropriately fussed over. Visiting relatives have been graciously wined and dined. We found "community" in its truest sense.
Though the announcement of our intention of moving into the District of Columbia was met with much dismay, our neighbors banded together to assist in any way possible. They let us borrow the Jeep to make hauls to our new home or the car to run to the storage unit. Goodies were delivered unsolicited. Furniture, too big for our new abode, was purchased and carried to its new home across the street. In an above-and-beyond-the-call gesture of kindness, an embarrassingly huge pile of trash and garbage was hauled in our absence from the patio to the curb, just to save us a trip back to Springfield from DC. And in a grand expression of hospitality, a farewell party was organized and hosted, complete with drinks, treats, and a memory book of photos and recipes.
No words can express our affection or gratitude to these, our good friends and neighbors; however, we offer these words in a meager way to say "Thank You" for creating a community that is tough to leave, and with the hope that other Leewood residents will realize the inestimable value of even the smallest gesture offered neighbor-to-neighbor.
TO OUR LEEWOOD FAMILY: Pam Stover, Kerry Dumbaugh, Brian and Carol Pastoric, Susan Sickman, Becky Taylor, Ronnie and Nancy McCoy, Terry and Tisha Walter, Judy Currier, Al and Judy Sanford, Bernard and Gracie Huff, Lou Ann Munson, Rich and Kerry Hartley, and all the other great folks of Leewood,
Thank you,
Joe Strickland and Tom Pack
1916 17th Street, NW, #406
Washington, DC 20009
(202) 387-3755
---
Notes: When I read this I thought how true it was that what you give comes back to you many-fold. Joe and Tom were wonderful neighbors that were ready to help out whenever they could, either personally or with the association. Joe was very talented at landscape design and his work is on display in several of our common areas. He was always ready to lend a helping hand, remember his great article on kitchen remodeling, his invaluable help on the brochure where he came up with the slogan "A great place to call home" .. the list is long indeed.
I think the point that is so well made in this article, though, is one which many of us feel - that Leewood has many wonderful neighbors in its midst. If you don't personally find that to be true, I urge you to reach out to your neighbors as it is the people of Leewood that truly is its strength.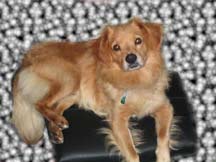 I thought you would like to see their new dog, Barney. For much of the time that Joe and Tom lived here they had a wonderful Golden Retreiver, Simon. Simon recently died and their new apartment requires a smaller dog. Barney is a Golden/sheltie mix.
Judy Currier
---
Click for printer friendly page